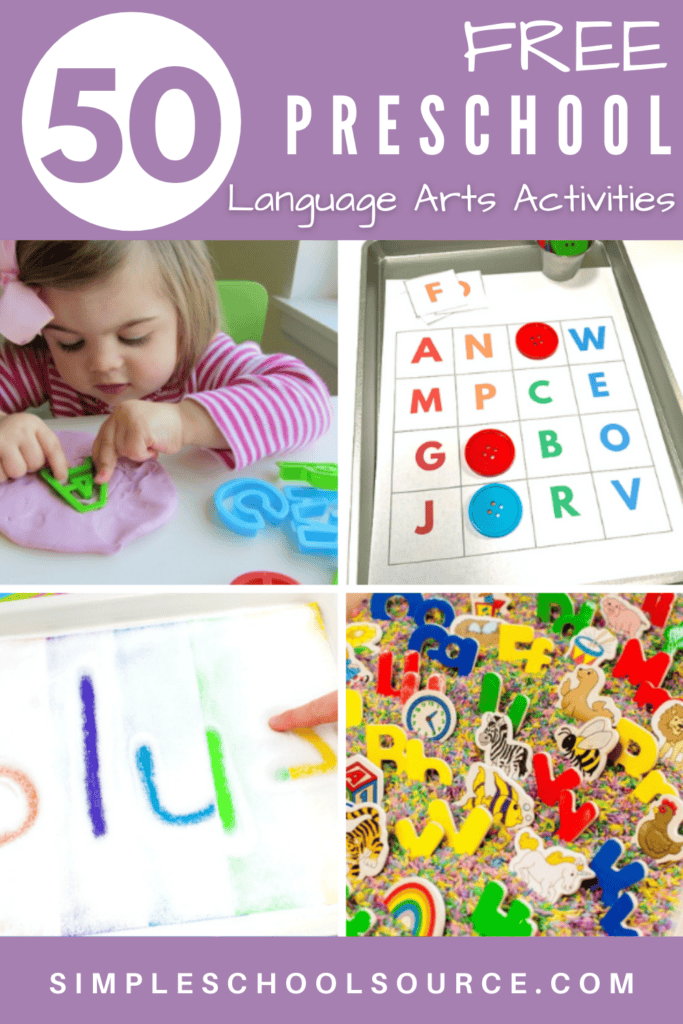 50 FREE Preschool Language Arts Activities
50 free language arts ideas to use as curriculum, unit studies, or as a supplement to your current homeschool curriculum.
Let your little ones sculpt and create while learning the alphabet at the same time!
If you're looking for a fun and interactive way to learn the alphabet, give this bingo game a try!
Introduce your children to letters without a worksheet or print out with this playdough activity!
Alphabet Sensory Bin for Letter Recognition and Beginning Sounds
Introduce your little ones to the alphabet and sounds with this fun alphabet sensory activity.
Help teach your little ones the alphabet and practice writing with this fun rainbow salt tray activity.
Dinosaur lovers will love learning new words and the identifying letters with this fun sight word game.
Alphabet Road Letter Mats: Trace and Write Set
These road mats provide a fun and unique way for your little ones to practice writing letters.
This ABC spray activity is so easy to set up and the perfect way to identify letters, sounds, and learn the alphabet.
Chocolate Sight Words Writing Tray
Your little ones will have a blast playing with chocolate and practicing sight words.
Stamp & Match Letter Matching Activity
Use playdough to help your little ones work on letter recognition and matching with this activity.
Alphabet Phonics Spinners Printable Activity
Your kids will have a blast spinning their way through the alphabet with this fun activity.
Favorite Things Letter and Shape Identification Activity
Introduce new letters and letter recognition with this fun letter and shape identification activity.
Your kids can learn to spell their name, make words, and practice letter recognition with these fun letter stones.
Your kids will love coloring to reveal the hidden letters in this fun activity.
Are you looking for a fun hands-on way for your kids to start learning phonics? This activity is perfect!
These alphabet clip cards are a great way to practice upper and lowercase letter matching!
Mixing Colors: Create and Name Your Own Colors
Use this creative activity to help your kids do something artistic and practice naming colors too!
Search & Find Rice Sensory Bin Play
Search for letters in this fun and easy to prepare rice sensory activity.
Ocean Animal Free Printable Clip Cards for First Letter Recognition
Help teach your kids letter recognition using these cool ocean themed clip cards.
All you need is alphabet pasta and rice to put together a creative hands-on learning activity for your kids.
Felt Butterfly Alphabet Activity
Your children will love discovering the letters of the alphabet on these adorable little felt butterflies.
While this game is intended for Christmas, you can use this fun memory game any time of year with just about any kind of candy!
If you're looking for an easy low-prep way to teach beginning sounds to your little ones, this activity is perfect!
Practice letter recognition with the help of some bugs using this fun alphabet scavenger hunt.
Help your child with pre-reading and name recognition with the help of this letter tile names activity.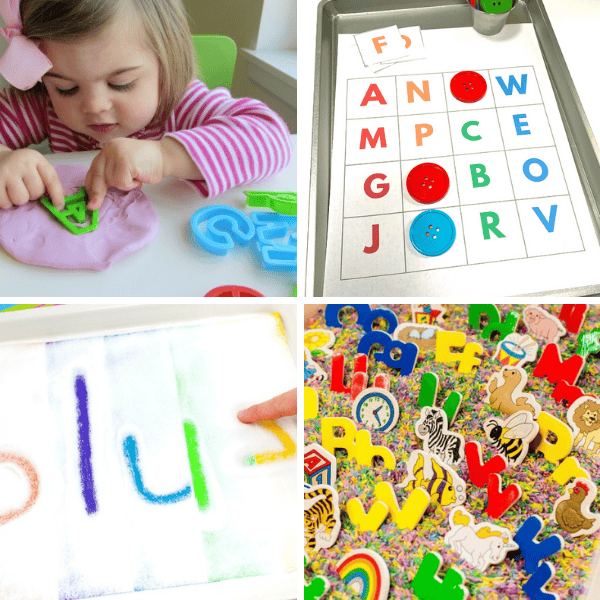 Chicka Chicka Boom Boom Activity
This fun letter recognition activity is inspired by the classic book Chicka Chicka Boom Boom!
This At the Circus fun pack is a great way to teach letters and other concepts to your little ones in a fun new way!
Free Digital Play Dough Theme Preschool Sight Word Activities
Practice sight words using playdough with these fun activities!
Ladybug Visual Discrimination Cards
Learning will not only be fun but also adorable with the help of these ladybug visual discrimination cards.
This owl letter tumble game is a fun way for your preschooler to practice letter matching.
The alphabet lessons in this fun pack are a perfect addition to a farm theme or a fun way to incorporate farm animals into your next lesson.
Enjoy a hands-on way to teach your kids letter sounds with this icy letter fun!
Teaching Letter Sounds "F" with Preschool Fire Safety
Teach your kids all about sounds and the letter F with this fire safety activity.
This washing letters sensory activity is a great way to learn the letters and their sounds!
Get started writing their name or practice drawing letters with these pre-writing practice pages.
Free Printable Alphabet Fine Motor Mats
Your kids will love learning the alphabet and growing their fine motor skills with these fine motor mats.
Jack and the Beanstalk Reading Activity
This fun alphabet activity would go great with a Jack and the Beanstalk story time!
Help your kids recognize upper and lowercase letters with this fun letter activity.
Your kids will have fun pretending to be a mailman and learning about letters with this fun pretend play letter activity.
Use LEGOs and these block mats to help your little ones learn the alphabet and practice letter recognition.
Get your kids up and moving and practice their letter recognition skills with this fun game.
Simple Hands-On Letter Matching Game
This hands-on letter matching game is so simple to set up and so much fun!
Teach your child to identify letters and read with this fun tic-tac-toe game.
Your kids will love hunting and identifying letters with this fun monster letter sensory bin.
Your kids will have a blast searching and finding different letters of the alphabet with these fun games.
Letter Recognition Shaving Cream Sensory Play
This fun hands-on messy play activity makes learning letters so much more fun!
Your preschooler will love learning the letters with this fun fishing game.
This water play activity is a great way for your little learners to learn the alphabet.
LEGO Unifix Alphabet Building Letters Activity
Use LEGOs to learn the alphabet and build letters with this fun activity.
Create an Alphabet Puppet Theater
Use different letters to make your very own alphabet puppet theater with this fun activity!